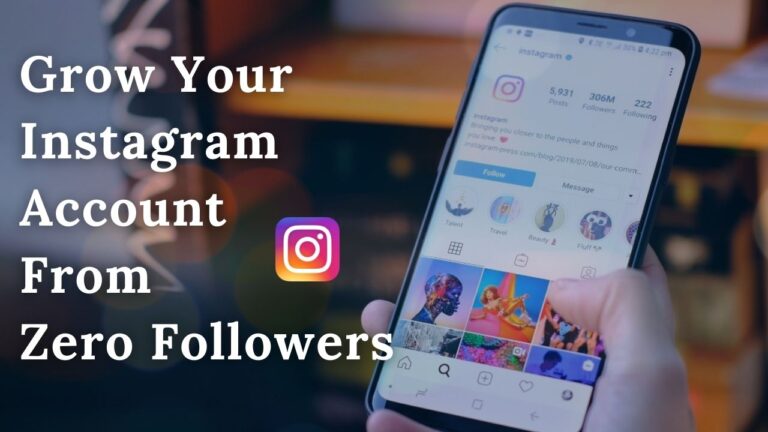 How To Grow Your Instagram Account From Zero Followers (2022)
July 29, 2022
If you want to grow your Instagram account from scratch, then this article Especially for you. In today's article, we will show you some ways that can prove beneficial for growing your Instagram account.
As you know, we have already published an article on this topic. But this article is a new and updated version of the growing Instagram account.
And I will also tell you some tips and tricks according to the current Instagram algorithm, which will take your Instagram account one step further. So let's start.
#1 Keep Your Instagram Username Good and Easy to Readable
Many people make this mistake. They do not keep their Instagram username well. I have told you many times in the username should not have an underscore and dot.
Now here you can see the Instagram page of The Rock. Their username has no underscore and dot, and their username can be remembered by anyone and is easy to read. Example of Good Username:
This makes them feel like you are a brand for them, and you may have also seen many company usernames, their usernames have no underscore nor any dot if you keep your Instagram username simple.
Users will be able to remember that username, and whenever that user wants to visit your profile, direct will search your username. If your username very long and hard to read, then users won't take you seriously. Example of Bad Username:
So keep your username carefully, don't keep a bad username. It would be much better. A clean username is better for you without underscore and Dot.
#2 Keep Your Bio Attractive
To write an attractive and engaging bio, you have to use emoji more. Less amount of text has to be kept. Try to explain yourself in bio in 2 or 3 lines.
If you don't know how to write an attractive and engaging bio, you can search on Google. You will get many tutorials related to writing a bio.
Keep in mind that it is mandatory to keep bio. If you do not use bio, it means you are losing a lot of followers. Bio is important because it provides short information about you and your content.
If you have written 1 or 2 lines related to food in your bio, and if the food user sees your Instagram account in his suggestion list, and that user will follow you after checking your account.
Because they are interested in food, and they got your food-related account. I hope you understand.
#3 Great Content
Yes, If you want to grow on Instagram or Facebook, or any other social media platform, then content will definitely be needed. Most of you will know this.
But sharing content on Instagram is not the only main thing. Suppose you are sharing useless pictures and videos on Instagram every day. So it will not give you more reach.
Or your Instagram account may be temporarily or permanently banned if you want to grow your Instagram account from zero followers to 1 million followers. So you need to share great content.
But do you know what the difference is between normal content and great content? If not, you will get more normal content on the accounts people copy each other's content and share their accounts.
Those people share more normal content, whose purpose is to gain more followers only, and they only mean by sharing content. Not what the user wants.
Great content means people who work hard and share content according to the user's choice. You also have to do the same thing.
If your account is new, and you do not know what your users like. So in such a situation, whichever niche you are interested in, keep sharing photos and videos related to that niche if any one of your videos or pictures gets a good user response.
So share more content related to that video or photo on your Instagram account.
#4 Post Consistently (at least once a day)
Great content sharing is good, but sharing content at the right time is also important. If you do not share the content according to the time, then it can be a worrying thing for you.
I have noticed myself, if you do not share content over time, your followers may also unfollow you. Or they can also be inactive. But do you know how to share content over time?
If not, you have to select a better time, the time when your Instagram audience spends more time on Instagram. After selecting the time, you must post at the same time every day.
You can post daily or even once in 2 days, but you have to upload only if more of your Instagram viewers are online.
With this, your Instagram viewer will also know the time to upload your photos and videos, and most likely, users will wait for your pictures at the given time.
If the user likes your photo or video, they will definitely share that video or photo with their friends. If your follower's friend also shares your pictures or videos. So it will give you lots of benefits.
#5 Create a Blog and Your Instagram Profile There
If you want to reach more in less time, you can create a blog on blogger.com and quickly grow your Instagram account.
Blogger is a platform where you can create any type of blog according to you and share information on it. For example, how to increase Instagram followers or how to increase Instagram likes.
But how is it beneficial for us? while creating a blog on Blogger, you will be asked for an address, which should be related to your niche. For example, you share fitness-related videos on your Instagram profile.
So you have to find out about fitness. After entering the address, a blog will be created. Now here you have to share information on the fitness-related trading topic.
After writing the complete information, you have to write 2 or 3 lines below. For Example: If you liked this information, then do not forget to share this information with your friends. If you have not understood through the article, then you must check our Instagram profile, where we teach in detail through video how to do this exercise, which will make it easier for you to learn.
You have to do this with every single blog post. This will give you a lot of reach, and all users who come from your blog to your Instagram profile will definitely follow you.
#6 Work On Trending Topics
If you work correctly on trending topics, you can get 1 million followers from zero followers in just 1 day of your Instagram account. You will not believe it.
There is so much strength in trending topics. If you also have to work on trending topics, first of all, you have to find trending topics, which you will easily find in Google trends.
Here you can find the trending topic according to the time, and you can work on it whenever you see a trending topic; keep in mind, here you are less likely to get a trending topic according to your niche.
According to your niche, if you have found a trending topic, start working on that topic as soon as possible. Because like you, many people are always searching for trending topics here.
Suppose you have found the best trending topic, now you have to make good content on that topic, which you can easily make by following the steps mentioned above.
After creating great content, you have to share that content in a place where the trend has started. By doing so, the chances of that content going viral will increase more.
#7 Share Your Content on Popular Platforms After Uploading
Sharing your Instagram posts and videos on a well-known platform is a good thing, and you will also benefit from it. But just sharing is not a good thing.
Instead, you have to share your post with the targeted audience. Only then you will get a benefit. If you are sharing your Instagram post on a platform where there is nothing related to your post.
So in such a situation, you will not get any benefit, so always share your posts in such groups and platforms where people show interest in your posts.
If you get this kind of audience. People who are interested in your content will share your post even more. Otherwise, people who are not interested in your post, and yet, you are sharing the post with them.
So, in that case, those users can report you or remove you from the group. So, share your posts with people related to your niche. On Facebook, you will find many groups related to your niche.
Pinterest is also a platform where you can share your posts, but here you can only share photos, not videos. But there is a trick that allows you to drive traffic to your videos from Pinterest.
For that, you have to create an account by going to pinterest.com and click on the PIN option. Then, by adding a photo related to the video, you can add a link to your Instagram video. So that users can click on that link, and come to your picture.
#8 Share Quality Content According to Users
If you share quality content, then sharing quality content can give you a good reach, but are users showing interest in your content?
If yes, then you must share the same content. If users show less response to your shared content, it means users do not like your content.
Getting a limited response to content is not just an indication that users do not like your content. But in the higher case, the user does not give any personal opinion on that content because they don't like your content.
The user responds to the content only if he like the photos and videos you have shared. He will like the pictures and videos only if he is interested in your content.
Suppose you have followed a medium-level Instagram account so that you like its content, and you want to see such content daily. If that user shares something that you don't like, Do you still like that content?
I hope you understand, but you don't know what your users like, you can ask them too, or you can go live and ask them. There are many ways, but you have to use those methods properly.
Only then can you grow your Instagram account from zero followers on Instagram to millions of followers. If you know the interest of your followers, nothing can stop you from becoming famous on Instagram.
#9 Use Hashtags
Yes, hashtags also have an important role while uploading photos to Instagram. But most people do not use hashtags in their photos. Hashtags can also occur due to not having much reach to your photos.
But it is also very important to use hashtags properly. You are reading this article. It may mean that you have just created an Instagram account, and you want to grow your Instagram account as soon as possible.
So you have to start using hashtags from today if you don't know which hashtags would be best for you. So you have to choose hashtags related to your content, i.e., related to your niche.
But Instagram allows you to include up to 30 hashtags on any post. You have to be careful. According to your niche, you have to find 30 such hashtags, which are also a little famous.
On Google.com or the PlayStore, you will find many such applications, these applications will give you many popular hashtags for free, and you can copy those hashtags and use them while uploading photos.
But keep in mind, it is most likely to show your photo on the hashtag you will use, so always use the hashtag that relates to your niche.
If your Instagram profile is related to fitness, then you only have to use the hashtag related to fitness. If you do not find popular hashtags related to fitness.
So you still have to use hashtags related to your niche, whether it is popular or not. Also, while uploading the video, you have to follow this process. If you use the hashtag correctly. So your chances of your Instagram post going viral increases.
Although there is not a 100% possibility that using a hashtag will make your post viral, but still increases the probability. Better than nothing, do something.
#10 keep Your Instagram Account Public
Although this is a normal thing, many people do not know whether our Instagram account is public or not. If your Instagram account remains private, then no user will be able to see the uploaded photos.
Before following all methods, determine whether your account is public or not. If you want to share a private photo and video and no one can see those photos, then leave that account private.
With this, only a few followers will be able to view your photos and videos, people who have followed you. And those who are new, who have not followed you, will not see your photos.
#11 Grow Your Instagram Account By Investing Money
This is a better option for quickly growing an Instagram account, although most people do not have the money to invest. But still, you can increase targeted Instagram followers by arranging some money.
Suppose you have uploaded some photos and videos on Instagram account. So you can reach those photos and videos to targeted Instagram viewers. If those viewers like your videos and videos.
So those users will definitely follow you to see that kind of content. The only difference is, if you want to grow organically, you have 2 options.
In a few days, you can grow your Instagram account from zero followers to millions of followers by investing some money. But if you want to grow without any investment, then you have to be patient.
However, more people prefer to choose the second option, which costs nothing, as they do not have that much knowledge about Instagram ADS in the early days.
But even though visitors coming from organically will stay with you for a long time, visitors coming with money cannot say how long they will be connected with you.
If you want to do something different on Instagram, instead of running ads, try organically promoting your Instagram account. It will benefit you, and you are also saving money.
You will be profitable only when you are promoting a product for your commission. If you are promoting an Instagram profile just to increase followers, then it will not prove beneficial for you.
Many people use Instagram ADS only when they have to sell a product. So that they can sell that product through Instagram ads.
If you want to sell a product, you can create an account on Amazon's affiliates, pick up some of those products and promote them on Instagram, and in return, you will get a good commission.
#12 Keep Engagement With Your Followers
This is very important in the early days. If you do not engage with your followers, you will rarely be able to grow on Instagram. Keeping engagement with your Instagram audience can lead you to success.
To create engagement with users, you have to share quality content according to them, and you will also need to go live on Instagram so that you can talk well to the users.
And try to answer all the questions that users ask you. If you solve your user's problem, then that user will always be engaged with you.
Whenever you upload any photo and video, that user will definitely like and share your photo and video. Any user will only engage with you when you help that user and talk to him as a friend.
But the most important role is content. If you optimize the content and upload it correctly, the user will be connected with that content, and he will also respond to that content.
But most users engage with the video, so you too have to try to share the video more. Through the video, the user can learn anything quickly, and you will get a lot of engagement on that video, and the chances of that video going viral increases.
#13 Tag Popular Celebrities While Uploading Photos and Videos
If your Instagram profile is related to modeling, tag popular celebrities. Otherwise, tag any Instagram profile that is related to your niche.
If you are uploading a fitness-related photo, then tag those photos on an Instagram profile that are famous in the fitness world, and they have more followers.
Whenever users check their timeline, your profile will show up when they have kept their timeline open. Otherwise, users can't see your Instagram profile.
Before tagging any celebrity or person related to your niche, make sure its Instagram timeline is open or not. If open, tag only that Instagram profile. Otherwise, you will not benefit anything.
Tagging is the best option to increase your Instagram likes. If you want to increase your Instagram account's likes as soon as possible, then definitely use tagging, this option you will see while uploading photos and videos.
After choosing this option, you have to find the username of the Instagram profile you want to tag, and according to Instagram, you can only tag 30 people.
Conclusion:
Grow your Instagram Account From zero followers, you can also do this by following different methods, and the most popular way is to increase followers through third-party applications.
By using third-party applications, you can quickly grow your Instagram account, whether the account is old or new. But organically, you cannot raise your Instagram account quickly.
There is a big difference between growing an Instagram account organically or with third-party apps. If you grow your account using a third-party app, your Instagram account may be banned.
Because Instagram does not allow to grow followers with third-party applications, if you increase your followers by following organic methods, your account will be 100% safe & secure.
Although your Instagram account will not grow organically quickly, you will get the result as soon as possible if you work on the trending topic.
I hope you liked today's article. So don't forget to share these methods with your friends. If you have any questions and suggestions, then you can tell us by commenting below.
You May Also Like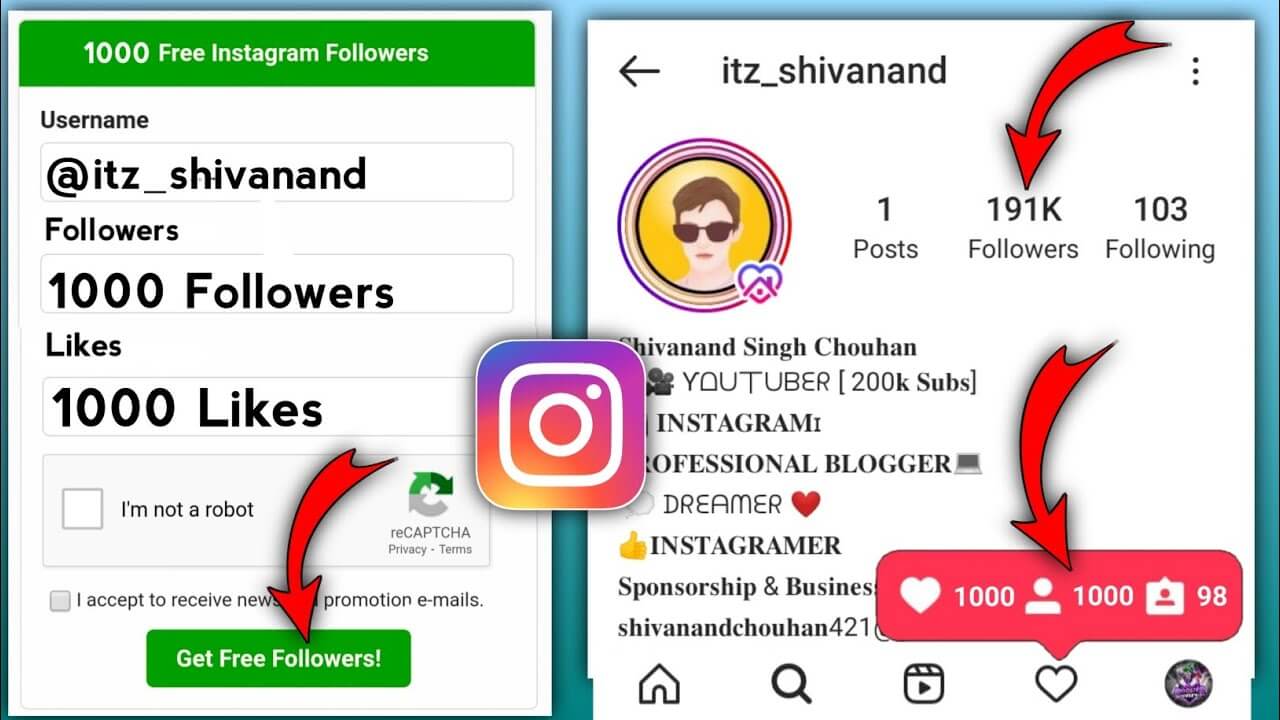 September 11, 2022